Here are the swatches from my last Stardust order. I got a sample of Sateen free with my order.
I'm going to start putting the names of the shadows onto the swatch pictures, I think it will make it easier to figure out which color is which.
All swatched over TFSI, natural light.
This set makes it pretty obvious what my favorite color is.
Juno, High Maintenance, and Royal Kiss all made me go "wow" when I swatched them. Juno and High Maintenance both have a slight duochrome to them I'm also glad that I was given Sateen- it's a beautiful neutral but I probably wouldn't have ordered it on my own. I tend to get unexcited about ordering neutrals, but I may have to start giving them a closer look.
Now for the descriptions on the Stardust website:
Sateen:
High frost purple toned taupe. Stunning.
Tempted:
Shimmery blue gray. Perfect with blue jeans!
Satin Sheets:
Purple frost with a subtle green pearl.
Juno:
Gentle purple blue with with delicate pink and blue twinkles.
Nebula:
Deepest of the deep purple frost.
High Maintenance:
Luxe purple with golden pearl.
Downtown Purple:
Deep purple with purple mineral glitter.
Amethyst:
Rich gem toned purple. Like sparkling amethyst.
Maggie:
Flirty warm purple shimmer.
Royal Kiss:
Shimmery reddened plum.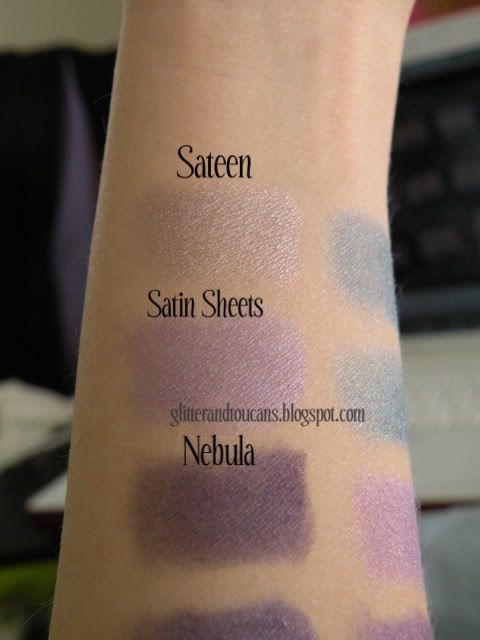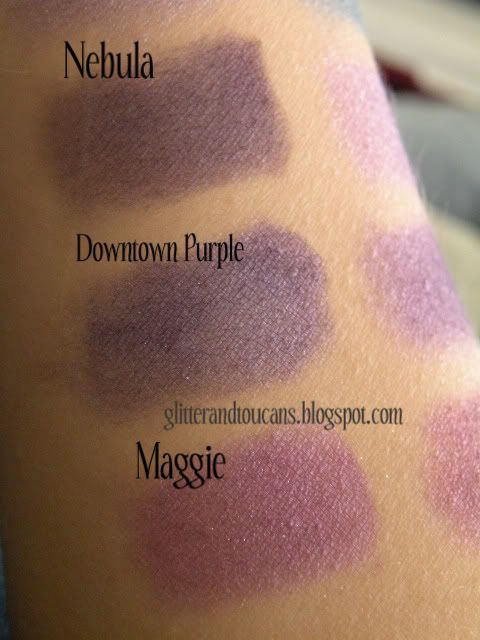 And an extra one because the colors are just so pretty.